Profile

Free Account
Created on 2012-01-17 06:45:16 (#1431314), last updated 2012-01-17 (296 weeks ago)
0 comments received, 55 comments posted
3 Journal Entries, 3 Tags, 0 Memories, 10 Icons

About
| | |
| --- | --- |
| Name: | Ion Spark |
| Birthdate: | Dec 26 |
| Location: | Canada |
| | |

Mini Bio
THIS CHARACTER IS USED IN INK CITY:
http://community.livejournal.com/ink_city/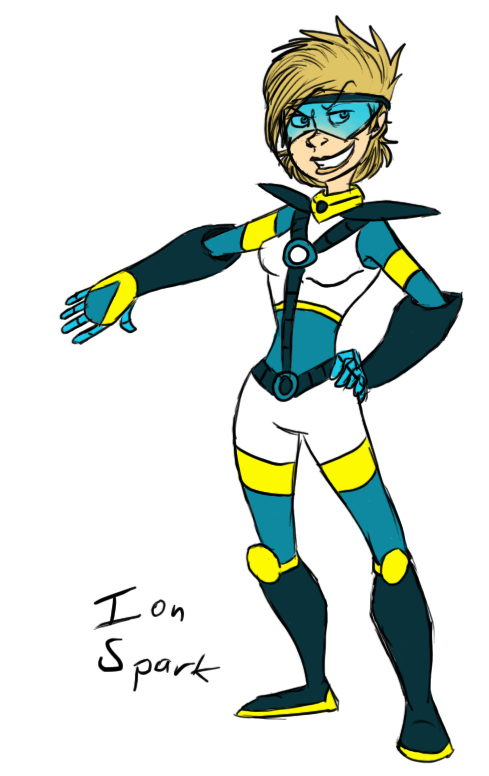 Name:
Ion Spark
From:
ORIGINAL CHARACTER DO NOT STEAL :U
Age:
23
Gender:
Female
Super-Powers:
Electrokinesis, Super-Strengh
Personality:
Ion is upbeat and overdramatic. Pretty much your average, campy superhero. She does have her moments of self-doubt though, because of her lack of acceptance back home, she's a bit shocked at her acceptance into Ink City. So, needless to say, she likes it better here than at home. Now it's just time for her to do some real hero-work in the City.
Bio:
Cheri Millhai was an undercover police officer in the year 2015. During an investigation of an illegal super-weapons smuggling ring, her cover was blown, and as she was fleeing her pursuers, broke open a container, holding a highly advanced sentient metal symbiote, which went for the first organism it saw, which happened to be Cheri. Attaching itself to her spine, it imbued her with her super-powers, and her fancy duds to boot! After busting the smuggling ring and several examinations from the world's top scientists, the symbiote was deemed unremovable and Cheri took up the superhero title; Ion Spark. Even though she has her lone wolf prowls through her city, she is still obligated under rule from the government to work with the police force. This does not please her. Still, she works, and they provide leads on criminals and bigger plots that require a more...delicate touch. And by delicate I mean a super strong electrical punch to the face. Ion is everything a superhero should be; dedicated to the people. But that doesn't mean there isn't a few kinks in the electrical wire. She's a big of a braggart, and stubborn about her own abilities, which is where the conflict lies with the police force. Not to mention the only reason her city is in danger now is because of her and her symbiote, so she's not adored by most of the population. Still, despite her shortcomings, she's a nice enough gal, so long as you're not a villain. Then she is your worst loud arrogant nightmare.
Moral Standing:
Good. Duh
Dreams:
To be accepted and do some REAL GOOD THINGS~ You want some wine with this cheese?
Fears:
Being captured and having the symbiote altered to be used as it was supposed to be; a electronuclear bomb attached to a host. Oh and cockroaches.

People
[View Entries]

[livejournal.com]
electricbrick

Communities
[View entries]

Member Of (0)

Subscriptions (5):

Administrator Of (0)

Feeds
[View Entries]

Subscriptions (0)

Linking
To link to this user, copy this code:
On Dreamwidth:
Elsewhere: